Dish Tradition with Filmmaker Bonnie Rich
Join the growing network of festivals, synagogues, and community venues that are hosting Life is Rich Dishing Tradition Screenings and inviting Bonnie to engage with their audiences about parenting millennials, passing down traditions and sharing family stories.
Our event planning and discussion guide gives you the tools to host a fun and memorable event.
Fill out our screening request form, and we'll send you a taste of the guide.
Create a special event by following the screening with a Q & A and meet and greet with filmmaker Bonnie Rich. Bonnie's daughter, Leah, is also available for events. Their mother-daughter comedy stylings are a hit on the national film festival circuit.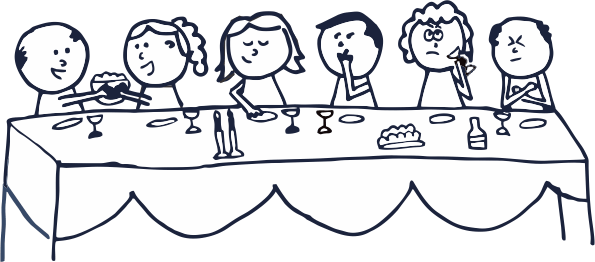 Pair the film with a Sunday lunch or Shabbat dinner. More than 150 members and guests attended Temple Beth Ami's Food Film Fest. The fest started with a Wine & Cheese Welcome, followed by a "Spirit of Shabbat" Service, Shabbat Dinner, film screening and, of course, lots of laughter and conversation.
At Story District's headquarters in DC, grandparents, mothers & daughters, and adults of all ages slurped delicious matzo ball and vegan squash soup before the screening. After the film, the capacity crowd asked advice from the panel about parenting and passing down tradition.
Temple Emanuel used the discussion guide to facilitate their own screening discussion. The crowd didn't want to stop talking, and only ended their conversations because another program needed the room!
"You know that an event is a success when the room is full of people who don't want to stop their conversations."
Linda Wolpert, Sisterhood President, Temple Emanuel
Create an impact as a Life is Rich Dishing Tradition Screening Tour host:
Build Connections Between Generations
Screening events are fun gatherings where people from different generations share laughter, stories and authentic conversations.

Reconnect Families to Tradition
The film sparks spirited, heartfelt discussions between parents and children about their own traditions and heritage.

Strengthen Your Outreach
Synagogue screenings attract a sizable audience of both members and non-members--who are excited to engage with one another, with the rabbi and with Bonnie.